Our Digital Guidebook is now online! Take the convention with you, and get up-to-date schedule changes, see event descriptions, photoshoots, and more!
Visit the Guidebook and add to your device's home screen!

Version 4: (Sept 13th, 2021)
Important Map Update (Sept 16th 2021): Events 1 and 2 have been changed. Please refer to the map below (or on the guidebook) instead of the ones on the web schedule!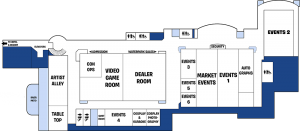 View as image (350kb) | View as PDF (540kb)
Please use the Guidebook above for all future updates!