Schedule & Guide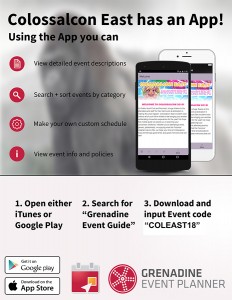 Hey everyone! Our App is now online!
1. Go to the Apple app store or Google Play
2. Search for and download "Grenadine Event Guide"
3. Enter the event code: "COLEAST18"
You can view information about the event, see a live updated schedule, search for events by category, and create your own custom schedule so you'll never miss the events you want to attend!
Web Schedule
Our schedule is now online! Please be aware that the schedule is always subject to change until the date of the convention. Please keep checking back for updates!


Colossalcon East Schedule Ver 2.0 (updated: 8/11/18) View as JPG Image File | Download PDF
Colossalcon East's Guide App for iphone or Andriod will be available soon!
Previous Versions
Colossalcon East Schedule Ver 1.0 (updated: 7/30/18) View as JPG Image File | Download PDF