Two Guest Announcements: Kristen McGuire & Brittney Karbowski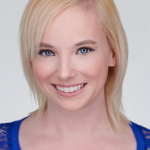 Kristen McGuire is a professional voice actor, ADR director, and script adapter for Funimation. When it comes to voice work, Kristen has worked on over 150 different titles, but she is most well known for her roles as Tatami Nakagame in My Hero Academia, Milim Nava in That Time I Got Reincarnated as a Slime, Loop Nishigori in Yuri!! On ICE, Senko in The Helpful Fox Senko-san, Young Nora in RWBY, Hinano Kurahashi in Assassination Classroom, An Onoya in ReLIFE, Tama in Magical Girl Raising Project, and Rin Toyama in New Game. She has also provided voices for several video games, including Chibi Arachne in Smite, Several voices in 88 Heroes, Female Marine in Xeno Crisis, and Miima in Dizzy Hearts.
As a scriptwriter, she has adapted several titles for English including but not limited to Cardcaptor Sakura: Clear Card, Love Live! Sunshine!, That Time I Got Reincarnated as a Slime, High School DxD Hero, The Helpful Fox Senko-san, and Magical Girl Raising Project. As an ADR director, she has directed shows such as Citrus and Gamers!, and served as an assistant director on both elDLIVE and Tsukigakirei.
Currently she works as a full-time script adapter for Funimation and likes to create her own comics in her spare time.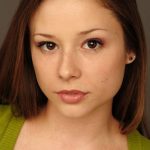 Brittney Karbowski is a prolific voice actress, who has voiced in a number of series with studios from Texas to California. She is best known for her roles as Wendy Marvel in Fairy Tail, Black Star in Soul Eater, Camie Utsushimi in My Hero Academia, Ryou in Clannad, Yuri in Angel Beats, Pride in Full Metal Alchemist Brotherhood, Mikoto Misaka in A Certain Magical Index and A Certain Scientific Railgun Series, Nanachi in Made in Abyss, Rimuru in That Time I got Reincarnated as a Slime, Migi from Parasyte the Maxim, Kusu is Dragon Ball Super, HisKo in Food Wars, and Hitch in Attack on Titan. Most recently she's Tirol In Sabukui Bisco; Saori in Tribe Nine, Minoru in Akebi's Sailor Uniform, Cetia Final Fantasy Brave Exvius; Pookie and Chela in Tiny Tina's Wonderlands, and there's more to come!