Guest Announcement: Bruce Carr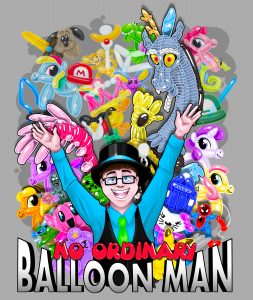 Bruce
Carr
 aka No Ordinary Balloon Man is a professional award-winning balloon artist currently living in Orlando, FL serving the Central Florida area and beyond. 
Bruce
 has entertained and built balloon creations for companies such as Disney, Wal-Mart, Kennedy Space Center, Geico, Lockheed Martin, Build-A-Bear, Dunkin Donuts, Belk  and Chick-fil-a. He is also an entertainer for parties and events throughout Florida and the Eastern United States, including Colossalcon in Ohio, Screw Attack Gaming Convention in Texas, Mobicon in Alabama and many more. 
Bruce
 combines balloon art, acting, singing and puppetry to construct beautiful lightweight costumes to delight attendees of any large event.
Bruce
's work has been recognized in social media and made into countless memes featured on such websites as Kotaku, MTVgames and Know Your Meme (Balloon Solid Snake and Balloon Colossal Titan) Equestria Daily (Balloon Party Favor Pony and Balloon Bridge) and Cartoon Network (Balloon Finn and Jake). As a performer, 
Bruce
 has collaborated with other amazing artists for unique balloon performances with Grammy Nominated punk rock band Green Jellÿ, Zombie Orpheus, creators of the Amazon Prime series "Journey Quest" and with Pecach Pictures "Pony Meets World"as "Human Discord". As an individual with Asperger Syndrome, 
Bruce
 encourages other to pursue their dreams through the panel " Twisting Up the Odds" and he is happy to be adding his whimsical balloon artistry to Colossalcon East!