Eyeshine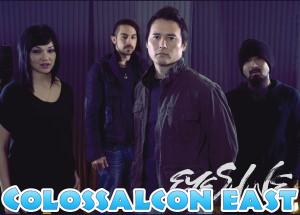 Eyeshine is a four piece, "edge rock" band originating in West Hills, California, formed in 2004. The band consists of
Johnny Yong Bosch (lead vocals, rhythm guitar), Maurice Salmin (drums, percussion), Masataka "Polo" Yazaki (lead guitar) and Ginny Eck (bass, strings).
The band's demo album, How About That? (2006), launched them into the underground rock scene with limited success but the band achieved nationwide fame with the release of their second LP album My Paper Kingdom (2009), which received multiple awards, including Elfenworks Social Justice award for their song, "Alone." In 2011 they recorded "Love Psalm" with Mary Elizabeth and Akira Yamaoka for Silent Hill: Book of Memories. Eyeshine won Ford Motor Company's worldwide band battle in 2012 and recorded a single with Grammy Award winning producer Don Was (Rolling Stones, Elton John, John Mayer…etc.). They have since toured worldwide and self produced over 11 albums. Other notable achievements include winning performance spots on Warped Tour and Ernie Ball's Rockstar Energy Drink Uproar Festival as well as having their music chosen for promotional use in the Call Of Duty Endowment project in 2013.
Check out the band's YouTube series to see what it's like being in an unsigned band at http://www.youtube.com/theeyeshineband or visit www.eyeshine.net or www.facebook.com/eyeshinemusic