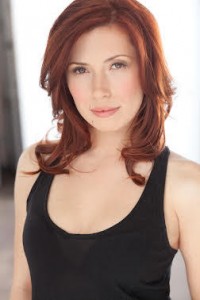 ELIZABETH MAXWELL is an accomplished actress and life-long lover of all things geek, so when she began a career in voice over that veered strongly into the genres of animation and video games, it seemed a match made in heaven!
She made her debut in the dubbing world on the hit anime series Attack on Titan (Ymir) and soon after took on the most recent incarnation of The Major in Ghost in the Shell: Arise (Motoko Kusanagi). Other popular anime titles include Noragami (Bishamon), RWBY (Winter Schnee), Soul Eater Not! (Shaula Gorgon), Fairy Tail (Jenny Realight), One Piece (Shakuyaku), and Nobunagun (Cyx).
She has also worked extensively in games, including Warner Bros. Lego Marvel's Avengers (Jane Foster/Thor), Gearbox's Battleborn (Phoebe), Obsidian Entertainment's Skyforge (Ianna), Robot Entertainment's Orcs Must Die! Unchained (Zoey the Chaotic Apprentice), Cloud Imperium's Star Citizen (Anvil Aerospace AI), Infinitap Games' Neverending Nightmares (Gabby), and S2 Games' Strife (Lady Tinder).
You can find Elizabeth's voice AND face on such TV shows as Criminal Minds, From Dusk Till Dawn: The Series, and Lost Tapes, and in the big screen psychological thriller A Perfect Getaway.
Elizabeth's body of work earned her a nomination for "Breakthrough Voice Actress of the Year" from Behind the Voice Actors (2014), and "Best Female Lead Vocal Performance" for Ghost in the Shell: The New Movie (2015). Look for her in LeSean Thomas's (Legend of Kora, Black Dynamite, The Boondocks) new original anime Cannon Busters later this summer as the outdated, but irrepressible maintenance droid Casey Turnbuckle and the smart-ass, sexy assassin Tiephoyd.
When she's not behind a mic, Elizabeth enjoys super hero training (aka kickboxing and stunt fighting), watching John Carpenter movies, reading fantasy novels, and planning for the zombie apocalypse.
More info at www.aboutelizabethmaxwell.com, and stay in touch on Twitter (@AboutElizabethM) and Instagram (@elizabethmaxwell).