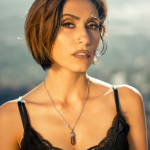 Cristina Vee is a Los Angeles based voice actress, director, and producer. In animation, she is known as Sailor Mars in Sailor Moon, Hawk in The Seven Deadly Sins, Killua in Hunter x Hunter, Darkness in Konosuba, Homura Akemi in Madoka Magica, Meiko in Digimon Adventure Tri, Sakura Matou in Fate Stay/Night, Mio Akiyama in K-ON!, Miki Makimura in Devilman Crybaby, Kotori Minami in Love Live!, Xochi in Victor and Valentino, Jay-Ten in Steven Universe, and Marinette Dupain Cheng aka Ladybug in Miraculous: Tales of Ladybug and Cat Noir. Other roles include parts in Re:Zero, Bleach, One Punch Man, Mob Psycho 100, Sword Art Online, Tiger and Bunny, One Piece, Violet Evergarden, Naruto, Boruto, Fairy Tail, Magi, Kill la Kill, Your Lie in April, Kakegurui, The Promised Neverland, Lupin III, and so many others.
She has also worked in hundreds of video games, as Velvet in Tales of Berseria, Ophillia in Octopath Traveler, Riven in League of Legends, Eagle Eye in Fortnite, Noel Vermillion, Nu-13, Lambda-11, and Mu-12 in BlazBlue, Cerebella in Skullgirls, Tatiana, Athena, and Lachesis in Fire Emblem, Cinque in Final Fantasy Type-0, 5-Volt and 13-Amp in Warriors Ware Gold, Shantae in Shantae, and can also be heard in Kingdom Hearts 3, Soul Calibur 6, Xenoblade Chronicles, Star Wars: KOTOR, Dangan Ronpa, Street Fighter V, Hyperdimension Neptunia, Just Cause 4, Drakengard 3, to name a few.
Her singing can be heard in the 3DS game Adventure Time: Hey Ice King! Why'd You Steal Our Garbage!? and in Shantae: Half Genie Hero.
Directing credits include Skullgirls, Skip Beat!, Indivisible, and Last Hope.
She is also known for her music, with her most popular song, Bad Apple!! English, standing at over 20 million views.