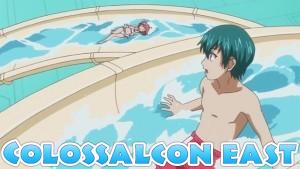 Colossalcon East takes place at the Kalahari resort. It has very lovely convention space. This is where the most formal aspects of the convention take place. The dealers room, panels, guests, video game room, etc. Attached to this resort and convention center is the country's largest indoor water park. There is also an outdoor water park that may or may not be open, dependent on weather. The indoor waterpark is open daily regardless of weather. However it may close in the rare event of severe weather conditions. If you stay at the resort, you will have access to the water park via your roomkey/wristband. If you're not staying with us, you can pay extra to go to the water park. Some people choose to do photoshoots or informal gatherings in the water park. Some people choose to go in there in cosplay just for the joy of it.
Friday & Saturday night 10:30pm-2:30am
Kalahari Indoor Waterpark
Admission: $25 per night, or both nights for $40(when purchased together).
Wristbands will be on sale throughout Friday & Saturday at registration and Con Ops (next to registration).
All rides (except Tiko's watering hole, coral cove, and kids attractions) will be open including the Paxton Grotto Swim up bar and outside hot tubs.
We'll have the wristbands ahead of time, so we can sell them like last year at reg, and a table near reg.
Lockers and Cabanas are available. Attendees will need to inquire about Cabanas in advance(pricing varies). Lockers vary by price.
If you're staying at the Kalahari, you get waterpark wristbands with your room for their normal waterpark hours, but If you'd like to hit up the waterpark on Friday & Saturday night without normies around, then this is a great time. If you intend to buy alcohol, please show ID to the Kalahari staff prior to entering the waterpark, and they will put a 21+ wristband on you. We are limited to selling 2000 entries. Food and drinks will be available inside the waterpark during the event.