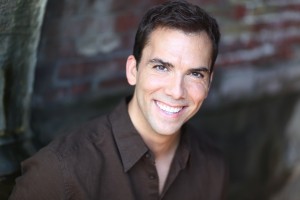 David Matranga has been working as a voice actor for 15 years voicing over a 100 roles including the popular simuldubs, My Hero Academia where he plays Shouto Todoroki and Bertholt Hoover in Attack On Titan. He recently completed the reboot of Saiyuki with Saiyuki Reload Blast where we stepped back into the shoes of the gun toting priest, Genjo Sanzo one of this first lead roles all those years ago. The last few years he has voiced The Junker in Planetarian, Silva in Monster Hunters Stories: Ride on and Subaru in Brothers Conflict in addition to many others. Other popular titles include Tomoya in Clannad, Appleseed Alpha, Harlock, Starship Troopers: Invasion, Halo Legends, Appleseed, Appleseed Ex Machina, Appleseed The Series, Maid Sama, Watamote, Saiyuki, Orphen, Le Chevalier D'Eon, Clannad, Gilgamesh, Colorful, 5 Centimeters Per Second, High School Of The Dead, and Super Milk Chan to name a few. He also works consistently in the commercial voiceover world.
Matranga reprised his role as Briareos in the recent CG-animated Appleseed Alpha and Appleseed XIII: Tartaros & Ouranos films in 2014. He also starred in the new Captain Harlock CG film for its North American theatrical run. His career since 2014 has covered a lot of ground overall. He was the handsome pink-haired doctor Akari in Karneval, Rio Satomi in Hakkenden: Eight Dogs of the East, the Majestic (but not very nice) Prince Jiart, cyborg builder Dr. Easter in Mardock Scramble: The Third Exhaust, and Tomoko's annoyed brother Tomoki Kuroki in WATAMOTE. He also stars as Usui in MaidSama. His more popular early anime roles include Orphen in Orphen and Sanzo in Saiyuki.
David also spends much of this time on stages around the country. He recently completed a four-city tour of the world premiere opera A Coffin In Egypt with Frederica Von Stade that culminated in a concert performance at Lincoln Center in New York City. Other recent productions include: Straight White Men, Marie Antoinette, Failure: A Love Story (Stages), You Can't Take It With You (Alley Theatre), The Hollow (Alley Theatre), DollHouse (Stages), Other Regional theatre includes: Miss Julie (CTC) Comedy Of Errors/Hamlet (Houston Shakespeare Festival), In The Next Room or The Vibrator Play (Regional Premiere @ Stages), Uncle Vanya (CTC), Mistakes Were Made (Stages Repertory Theatre) A Christmas Carol (Alley Theatre) Yankee Tavern, Auntie Mame, Complete History of America Abridged,Man From Nebraska and Grey Gardens (Joe Kennedy Jr./Jerry), Lobster Alice, all at Stages Repertory Theatre. He also originated the roles of Patrick in 110 Flights and General Longstreet in General Desdemona at the 1st Annual Proctors New Play Festival, Pride and Prejudice (Dallas Theater Center), The King Stag (Yale Rep), A Christmas Carol (Actors Theatre of Louisville). Recently David has begun to do more film and television work that includes, Be Not Afraid, Dropa, The Rejects, Law & Order, All My Children, As The World Turns, Urban Shakedown and Occupy Texas starring Lorelei Linklater. He received his acting training from the Yale School of Drama.